First Day Hikes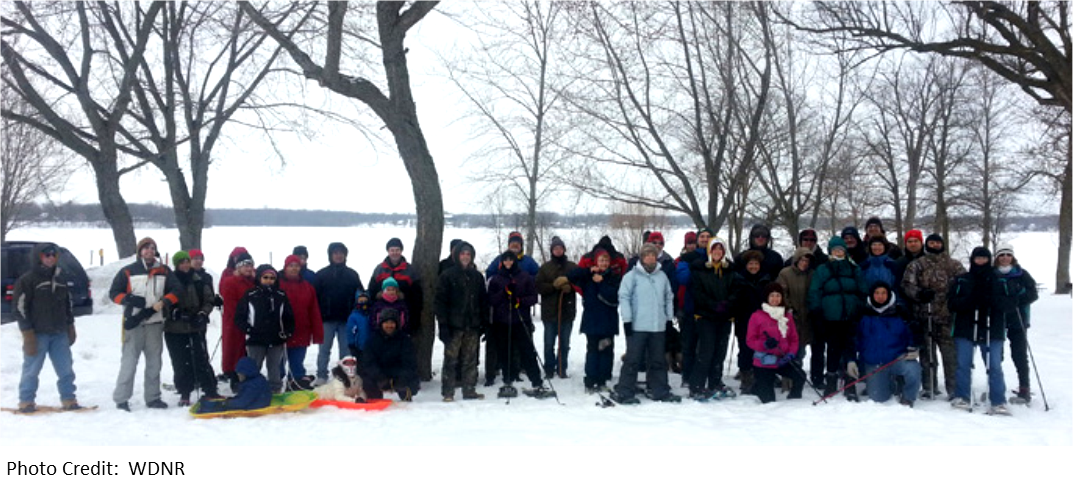 First Day Hikes
First Day Hikes are part of a nationwide initiative led by America's State Parks to encourage people to get outdoors. On New Year's Day, hundreds of free, guided hikes will be organized in all 50 states. Kids and adults all across America will be participating in First Day Hikes, getting their hearts pumping and enjoying the beauty of a state park. Last year nearly 28,000 people rang in the New Year, collectively hiking over 66,000 miles throughout the country! For information in your state visit the official First Day Hikes website.
The hikes are led by park staff and other knowledgeable volunteers. You can be a novice or go for a walk in a park that has a little more distance and requires a bit more endurance! Go on your own, bring the kids or get a group together to enjoy some camaraderie. It's just a walk, not a race so you can go at your own pace. Pack a little hot chocolate and some snacks and just enjoy the beauty of the state parks natural resources.
Here in Wisconsin we may have muddy trails instead of the beautiful snow covered trails that we usually have. It was 48 degrees here in my town yesterday and we have very little snow covering our lawn any more!
Find a First Day Hike Near You.
Here are a Few Tips For Hiking in Cold Weather
Dress in Layers. It may be cold when you start, but you will begin to warm up as you walk. Overheating, believe it or not, can also cause hypothermia since excessive moisture can't escape.
Wear a Hat. Most of the heat you lose from your body goes out from your head. This is because your head is filled with oxygen-carrying capillaries that feed our brains and consume 1/3rd of our body's energy. (Betcha didn't know that figure did ya!?)
Wear Comfortable and Warm Boots. Wear an extra pair of socks so your feet stay warm. Throw an extra pair of socks in you backpack in case you need more warmth or your socks get wet!
Keep the Water in Your Bottle Warm. In the summer time you always bring a fresh bottle of cold water, but in the winter time cold water will chill your body faster. In the winter time, that is not your goal!
Don't Forget the Sunscreen! I'm almost certain you weren't expecting that one! Just like summer days, the sun reflects off the snow and can give you a snow sunburn.
Be Prepared for Shorter Days. Begin your hike early enough that you don't have to rush. Take your time, enjoy the views and take time to have a break now and then when necessary. Find out when the sun sets in your area and plan ahead.
The American Hiking Society is also offering prizes for pictures. So take some pictures and submit them to their website you may just win a prize from Columbia, Brooks Range or other outdoor suppliers.
Who knows? This may be the beginning of a year-round activity for you! Hiking is not just for summer any more!
FYI – First Day Hikes Will be Held at Nine Parks All Across Wisconsin
NewPort State Park
Pennisula State Park
Harrington Beach State Park
Kettle Moraine State Park
Mirror Lake State Park
Buckhorn State Park
Richard Bong State Park
Devil's Lake State Park
Stower Seven Lakes Trail
http://www.socialmarketingfusion.com/wp-content/uploads/2016/12/backpack.png
379
307
socialmarketingfusion
http://www.socialmarketingfusion.com/wp-content/uploads/2017/04/SMF-with-cogs-logo-300x138.png
socialmarketingfusion
2016-12-29 20:31:43
2017-01-11 20:53:30
First Day Hikes